Dieser Post ist auch verfügbar auf: German

---
+++Antirepression working group and its tasks
The actions in Frankfurt in May 2012 were coupled with a state of emergency that nobody expected in their scope. All actions, discussions, stage programs planned by the Blockupy coalition were banned. And Frankfurt became the stage for police exercises for emergency situations in a way that seemed absurd to most. Frankfurt was declared a "demonstration-free zone" for the duration of the action days with creation of a "security zone" surrounding the European Central Bank, the imposition of bans on the city center that later proved to be illegal for hundreds of demonstrators and mass detainments of persons who assembled in the city despite the bans. With more or less success, however, people continued going to the streets and taking the squares for some time.

During the action days 2012 our structures were largely and in part overloaded. Many planned things, such as antirepression info points, were not able to be implemented because of the bans. Other things, such as jail shuttles from the detention centers (in German referred to as GeSa) would have functioned poorly if not for the spontaneous support of volunteers.
We evaluated these experiences and we are attempting to prepare for Blockupy 2013 for all eventualities. Within Blockupy an antirepression working group was created. We are working together with the Frankfurt legal team (EA), with the 'red assistance and antirepression groups' (Rote Hilfe), with demonstration medics, lawyers, demonstration observers who will accompany and support the action days. This is a huge personell and financial cost, and requires considerable structures and logisitcs. Blockupy 2012 proved this.
Contact to the antirepression working group: antirep (@) blockupy.org
If you can support the work of the antirepression group, please contact them. Especially translation is needed.
Legal tips in various languages, updated for 2013:
'Red assistance' legal tips broschure: 'was tun wenns brennt'
Rote Hilfe Broschüre: Was tun wenn's brennt:
italienisch – polnisch – griechisch – arabisch – englisch – spanisch – französisch – polnisch – russisch – türkisch
More information about the legal team (EA)



The EA primarily supports affected demonstrators against police repression, especially with respect to arrest. The EA collects the data of all arrested persons. Affected persons and observers are asked to report to the EA by telephone. If needed, the DA will provide for support from lawyers for arrested persons. The lawyers negotiate on the telephone and at the place of arrest about their fate. For groups of minors, other legal provisions apply. Minors can therefore count on special support from the EA. The EA is sure to get an overview about the compliance of the authorities with legal provisions. The lawyers intervene, for example, when a detainment exceeds the maximum legal duration.
The data of arrested persons are evaluated. For this the EA creates an overivew during the action of the reasons for arrest and the places of origin of affected persons, as well as of police activities. This makes it possible for the EA to check whether all arrested persons were let free (in due time). Moreover, the collected data can be anonymised and used to create statistics. These can be used for EA press statements, for legal estimates of the incidents as well as for possible complaints against the executive.
The EA does not feel responsible for questions that belong to the task area of the info telephone. Such questions include the transmission of information about routs and locations of demonstrations. Moreover the EA will not communciate personal information to any external persons. No information about persons who have been freed from police detainment will also not be given out. During the action days the EA will not enter into negotiations with the police at the place of actions or demonstrations. This is the task of the legal team of lawyers at the places of action.
Demonstration medics

First aid groups and demo medics emerged from experiences with police violence during demonstrations and also from the experience that the state or quasi-state medical services (red cross, etc) frequently do not care for demonstrators or do not transmit the information of injured persons to state bodies. The self-organized demo medics understand themselves as part of the demonstration, as active left persons with the special job of aiding injured persons.
During Blockupy 2013 demo medics will be present at all activities. In the camp there will also be a first aid tent.
Lawyers / legal team
The police behavior during Blockupy 2012 with demonstration bans, 'kettling', detainments of activists (upon arrival in Frankfurt) in detention centers (GeSa) proved once again how important it is that lawyers are present at all events. We want to ensure this for 2013.
Demo-observation
At left demonstartions and other activities such as blockades police excess against demonstration participants is frequently is the case. From this experience, initiatives especially from human rights groups such as "citizens observe the police", the committee for basic rights, etc, have begun to accompany demonstrations and observe and document police demeanor and behavior. Over the years many important and process-relevant documents were created which have also contributed to public discussion of police measures.
The demo observers will be visible with vests as "observer". In 2013 they will be at Blockupy. Members of human rights groups, citizens with legal experience and parliamentarians make up the team.
Out of Action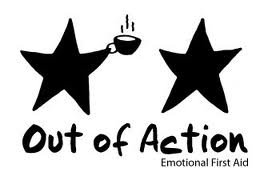 Whoever resists existing power relations is frequently confronted with repression. This can have more consequences than a bloody nose or financial stress due to process costs. There are less obvious consequences such as emotional stress or even psychic trauma.
For persons affected as for all persons who need a rest, there will be resting places in the camp as well as in the city. We are also trying to ensure that experienced contact persons are there.
No Camera – Still No Problem !



We ask you to think twice before filming action. Although there are arguments in favor of documenting police violence there are many repression dangers associated with filming, especially for actions that are on the margins of legality or "civil disobedience". Moreover, as soon as the police suspect reason for criminality they can take your cameras, cell phones, etc. In this sense 'anonymization afterwards' is not possible.
Antirepression needs support
The costs for necessary legal battles after Blockupy 2012 presented a very large and unplanned financial stress for the coalition. We have had some first successes in court, some processes are still ongoing.
Most recently the court in Giessen declared illegal the detainment and treatment of passengers of one of the three Berlin busses last year, which was stopped on the autobahn by police. Many persons filed complaint and now each persons will receive 500 euros from the Frankfurt police due to illegality. A further complaint about the 7 hour detention of another Berlin bus is sill being decided.
We are asking in particular for donations for the antirepression work:
Donation account for antirepression
Libertad!
account: 8020068500
GLS Gemeinschaftsbank (BLZ 43060967)
purpose: "Anti.Rep.Blockupy"